Audrey Tatt, DDS
My goal is to help my patients improve their oral health, but also to make the process as comfortable as possible. We have some truly wonderful patients who value the importance of good oral health and make it a delight to practice dentistry. I am committed to making my practice the place where my patients can come for quality, comfortable, efficient care at a reasonable price. I think my patients know that they are more than just teeth to us. We all value our patients as people and appreciate that they have chosen to have us care for them.
My team will make dentistry as easy and transparent as possible. I am so very excited about and proud of my team and have been fortunate to work with some great people over the years. My team is not only bright and knowledgeable but caring and compassionate. We all share the same commitment to continuing education, both for ourselves as well as for our patients.
Education and Continuing Education
Bachelor of Science in Zoology – University of Washington
Doctorate of Dental Surgery – Northwestern University Dental School
As dental technology continues to evolve, I feel that it is imperative for me to stay up-to-date on the newest and most effective treatments in my field. I have participated in many study clubs in the area with other general dentists and specialists with discussions ranging from implants to comprehensive treatment planning. I am involved with our local dental society and have been a member of their Executive Council and past president, I attend their evening and all-day continuing education courses. My team and I have also attended the local Pacific Northwest Dental Convention. I truly enjoy being involved with continuing education and feel it is necessary to ensure that patients receive the best possible information and care.
Professional Affiliations
American Dental Association
Washington State Dental Association
Seattle King County Dental Society
Chicago Dental Society
Pierre Fauchard Academy
American College of Dentists
In the Community
The best way for me to give back to my community is through dentistry. Being active in the dental society, I have been part of a group that has improved access to care in the area. I have also volunteered in the past with Medical Teams International on their dental van. I have been involved with various charities from performing screenings for the Special Olympics to doing the race for the cure for Susan G. Komen Foundation with my office. I enjoy being active in my community and am always glad to help!
Outside the Office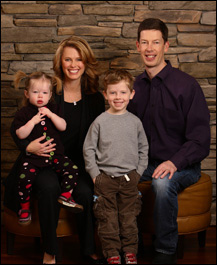 I was born in Malaysia and moved to the US when I was seven, settling in Woodinville and Bellevue with my family. I now live in Houghton with my husband, Jeffrey, and our two children, Ian and Kylie, our Goldendoodle, Toby. My kids keep me busy and happy when I am not working. My kids keep me busy with soccer and school. My parents and one of my brothers and his family live in the area and we enjoy getting together every week as well. When we have the chance, we love to travel as a family.